Hello, fellow speculative fiction lovers! We have some exciting news to share with you.
We are the editors of the 2013 edition of Speculative Fiction: The Best Online Reviews, Essays and Commentary – a collection that celebrates the best in online Science Fiction and Fantasy non-fiction.
After a year of submissions and countless hours combing over all the reviews, essays and commentary on the internets, we are very pleased to unveil the official cover, and announce our final list of contributors!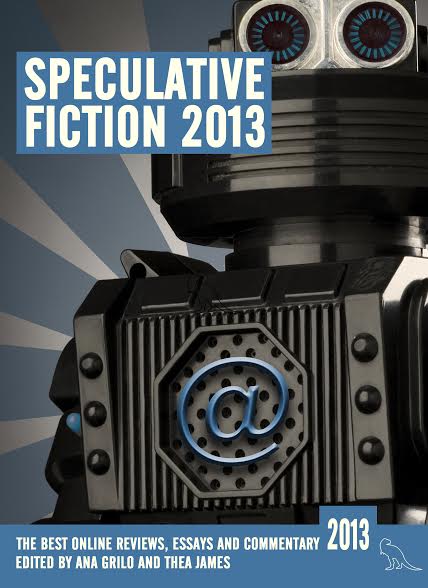 Cover art design by Sarah Anne Langton
Speculative Fiction 2013 collects over fifty truly awesome pieces from all corners of speculative fiction fandom – from book criticism to incisive commentary on important issues like sexual harassment at conventions; from feminist themes in summer blockbusters to life-changing video games; from the merits of grittiness and the downfalls of grimdark. The full list of contributors is outlined below!
Finally, we are thrilled to announce that this year's edition features a foreword from John W. Campbell award-winning writer Seanan McGuire. Seanan is the author of the Toby Daye urban fantasy series, and, under pseudonym Mira Grant, the Newsflesh trilogy and Parasite. She's also a Hugo Award-winning podcaster, and a prolific blogger – making her the perfect person to introduce this year's edition of SpecFic.
We hope you're as excited about SpecFic 13 as we are!
SpecFic '13 Contributors
SpecFic' 13 will be released in April 2014 and all profits from sales will be donated to Room to Read.
ISBN (ebook): 978-0-9928172-6-8
ISBN (POD): 978-0-9928172-7-5
About the Speculative Fiction Series:
Speculative Fiction is an annual publication that collects the best and most provocative reviews, essays, and commentary from across SFF fandom. The first volume, edited by bloggers Justin Landon (Staffer's Musings – US) and Jared Shurin (Pornokitsch – UK), collects over fifty AWESOME pieces from science fiction and fantasy's top authors, bloggers and critics (including an essay from yours truly) and is out NOW. All profits from sales of Speculative Fiction will be donated to Room to Read.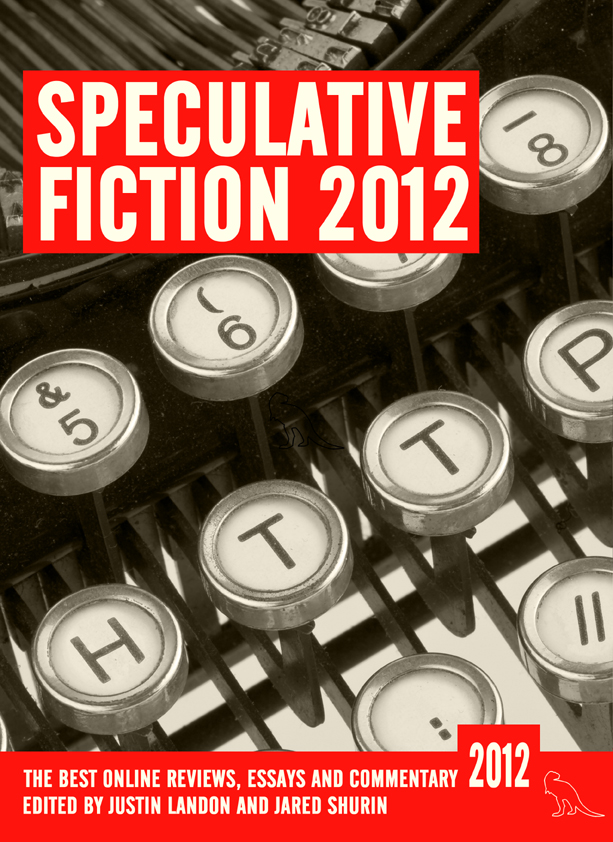 The 2012 edition also includes an afterword written by us in which we talk about what we will be looking for as editors of the 2013 edition.
Here are the goals we set for ourselves as editors of the 2013 anthology:
We will strive to strike a balance between essential cyclical conversations (e.g those about diversity and representation and critical writing in SFF) and the New and Shiny catchprases or topics (e.g. Grimdark) that steal the stage in 2013.
We will do our best to capture a broad swath of the many fandoms and subcategories that fall under the SFF umbrella, including (but not limited to) reviews of novels/novellas/short stories, television shows, gaming, art (professional and fan), movie talk, as well as essays about the different aspects of SFF overall.
We will acknowledge the fact that SFF conversations are also happening in forums that are not SFF-exclusive (e.g. at locations very much like our own blog).
We will maintain the gender balance of contributors. More importantly, we will attempt to maintain the gender balance of the content itself.
We will solicit voices that cover different age ranges of SFF fiction – because the Young Adult and Middle Grade categories are exploding with books and discussions – as well as voices from often dismissed subgenres like Urban Fantasy and Romantic SFF. We'll also do our very best to include international voices, beyond the United States and United Kingdom.
We hope that we were able to achieve these lofty ambitions!